Severe Tropical Cyclone NIRAN was the sicth tropical cyclone and the second severe tropical cyclone of the 2020–21 Australian region cyclone season. It reached Category 5 with 10-minute sustained wind speeds of up to 245 kph and a minimum pressure of 931 hPa. It formed in the proximity of northern Queensland (Autralia) and moved very close along New Caledonia but did not make landfall.


---


On 25 February, the Bureau of Meteorology (BOM), the Australian weather service, registered a tropical depression in the northwestern part of the Coral Sea. In a pressure field favourable for cyclogenesis, it developed into a tropical cyclone on 01 March, which was named NIRAN by the BOM. Extremely favourable environmental conditions such as a sea surface temperature of 28°C, low vertical wind shear and a moist mid-troposphere led to the storm reaching category 2 tropical cyclone status on the same day.


Sea surface temperature, 07.03.: NOAA



NIRAN moved away from mainland Australia to the west and underwent rapid intensification, reaching category 3 by the late evening of 3 March. At 12 UTC on 5 March, the system reached its peak intensity as a strong category 5 tropical cyclone (on both the Australian scale and the Saffir-Simpson hurricane wind scale). At this time, NIRAN had 10-minute sustained winds of up to 245 kph and a strong, well-defined eye. The minimum air pressure of the system was 931 hPa.



NORANs trajectory: Background image from NASA, tracking information from NOAA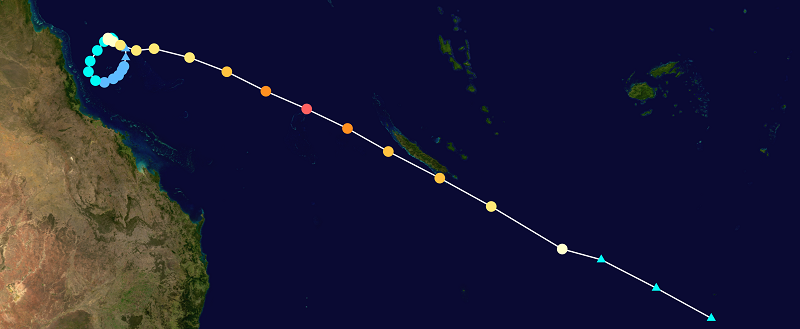 On its further trajectory, the storm moved into the Fiji Meteorological Service (FMS) area of responsibility as it moved in a southeasterly direction towards New Caledonia. On the evening of 05 March, NIRAN began an eyewall replacement cycle and entered an area of increasing vertical wind shear, which caused a weakening trend to begin. At 12:00 UTC on 06 March, NIRAN approached the main island of Grande Terre in New Caledonia as a category 3 tropical cyclone. The centre of the storm passed only about 20km south of the capital of New Caledonia, Nouméa. At this time, the system already showed a clear asymmetry with decreased convection in the northern part. Under increasing wind shear, the storm weakened to category 2 in the evening of 06 March. By the night of 7 March, NIRAN already underwent extratropical transition and dissipated rapidly.




---
Text: FS
March 09, 2021
---