A pronounced cut-off low over western Europe led to intense precipitation in Central Europe. Significant amounts of snow in elevated areas of the southern Alps. 789.6 mm/72h in Andreis, Pordenone (Italy).


---


Beginning on 02 December, an extensive and strong ridge of high pressure developed over the Northern Atlantic. This hinders the westerly zonal flow over the North Atlantic towards the European continent. The jet streak (local wind speed maximum in 500 hPa) east of the axis of the ridge allowed a deep trough to develop over western Europe reaching southwards to the Mediterranean region.


500 hPa Geopotential from 03 to 06 December, source: wetter3


As a result of that, a secondary low was created over Italy. This arrangement created a textbook excessive precipitation/snowfall event for the northern Mediterranean region, particularly the southern side of the Alps due to congestion.



Snow height in the Alps, 08.12., source: ZAMC



This resulted in extreme amounts of rain and snow in the southern Alpine region within a few days, especially on 06 December. Above 2000 m elevation 200 to 300 cm of fresh snow were measured. The 72h precipitation amount from 05 to 07 December was around 300 mm in Slovenia and Austria. Some stations in tdalia reported precipitation amounts up to 800 mm.



Sateliite images southern French Alps, 30.11. and 06.12., source: NASA Worldview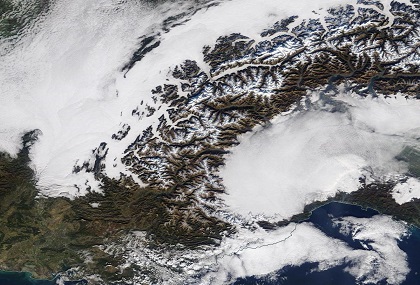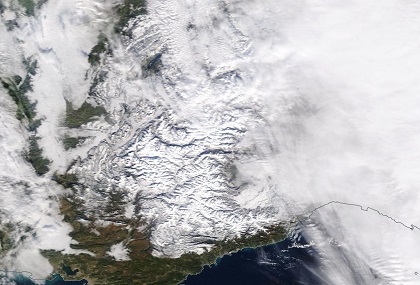 The combination of excessive precipitation, snowfall and subsequent snowmelt at higher altitudes led to the declaration of the highest avalanche warning level in widespread parts of the Southern Alps.


Webcam comparison between 02./03. December and 08. December, source: Bergfex,
Locations: Zettersfeld - Bergstation Steinermandl (2214 m), Rittnerhorn - Schwarzseespitze (2070 m), Sarntal - Sunnolm (1835 m)
---
Text: FS
December 09, 2020