Cyclone HAROLD reached Category 5 intensity two times and penetrated the Solomon Islands, Vanuatu, the Fiji Islands and Tonga. The JWTC reported 1-minute sustained winds of up to 270 kph. Up to 213 mm/24h were registered on ground stations.


---


Although HAROLD is located in the Pacific Ocean it is nomenclatured as a Cyclone and not as a Typhoon. The graphic below shows an overview of the responsible Tropical Cyclone Centers and their areas of responsibility. While tropical systems generally do not occur in the eastern part of the South Pacific due to low water temperatures, the nomenclature in the rest of the South Pacific is Cyclone. HAROLD falls under the area of responsibility of the Fiji Meteorological Service (RSMC Nadi).


Worldwide Tropical Cyclone Centers and their area of responsibility, source: NHC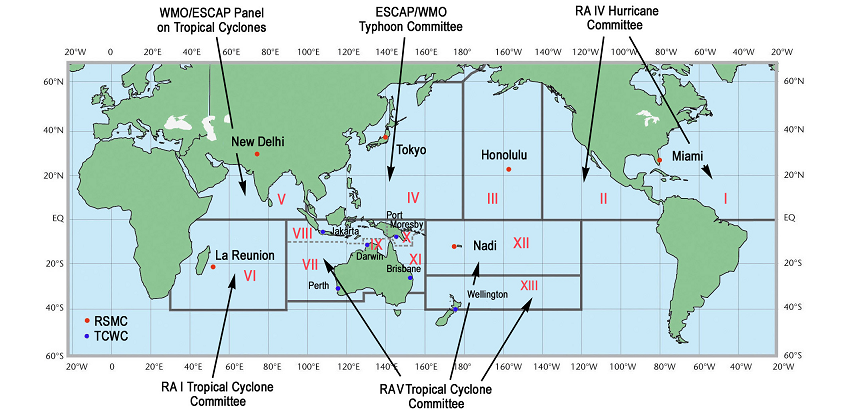 On 01 April the Aurtralian Bureau of Meteorology registered Tropical Low 12U near Muyua Island as an area of partially strong convection. Due to low vertical wind shear and the as usual high sea surface temperatures of about 30°C in the West Pacific, the system quickly became a Category 1 Tropical Cyclone. HAROLD moved about 135 km southeast past the Solomon Islands and passed 160°E, passing the responsibility to the Fiji Meteorological Service.



Cyclone HAROLDs trajectory from 01 to 11 April 2020, source: NASA and NOAA



On April 03 and 04 a strong intensification up to category 4 Cyclone occured before the system moved over the Vanuatu Islands. The station in Aneityum registered a daily precipitation of 177 mm on April 04. The system continued to move in an east-southeast direction and reached category 5 on April 06 with 1 minute sutained winds speeds of 270 kph. On 07 April HAROLD passed about 115 km south of Suva (Fiji Islands). At the station Manasavu a 24 hour precipitation of 213 mm was recorded.



In the course of this, the system weakened a little bit due to an eyewall replacement cycle, but reached category 5 again on 08 April. After the eyewall replacement cycle, the radar images indicate a precipitation-free eye with a diameter of more than 50 km. On 09 April the system started the extratropical transition as a result of entering a region with increased wind shear. Already on 11 April the system disappeared about 1500 km southwest of Adamstown (Pitcaim Islands).


Satellite images (infrared) of Cyclone HAROLD, 08 April, source: Windy


Cyclone HAROLD caused severe damage on the Solomon Islands, Vanuatu, Fiji and Tonga. Almost 100 houses were destroyed on the Solomon Islands, and the infrastructure suffered damage from storms and flooding. In Vanuatu, many COVID-19 restrictions were cancelled to ensure evacuation measures. In addition to the destruction of buildings and roads, Vanuatu lost communication connections for more than two days. Heavy rainfall and a storm surge of about 0.8 m destroyed many agricultural areas. On the Fiji Islands, several villages were flooded and the infrastructure was damaged. There were significant power outages. At least three confirmed tornadoes caused destruction to schools and other buildings. Tonga was also hit by a storm surge of 0.8 m and suffered storm damage such as covered houses and power cuts.




---
Text: FS
April 13, 2020