At the beginning of September, within four days two ex-Category 4 typhoons made landfall in Busan, the second largest city in South Korea. Precipitation amounts up to 176 mm/24h in Tanegashima (Japan) and 143 mm/24h in Cheju (South Korea).


---


Typhoon MAYSAK developed from a low-pressure system in the West Pacific east of the Philippines, in the area with the highest sea surface temperatures worldwide. Over 30°C warm water and an area with low vertical wind shear developed clusters of atmospheric convection, which organized themselves on August 27 and rotated around a forming storm center. On August 28, the system was named JULIAN as a tropical depression by the Philippine weather service, PAGASA. The same day, the JMA classified the system as a tropical storm and named it MAYSAK. On August 29, the storm reached typhoon strength and a visible eye formed in the center.


Trajectories of Typhoons MAYSAK and HAISHEN, background image from NASA, tracking information from NOAA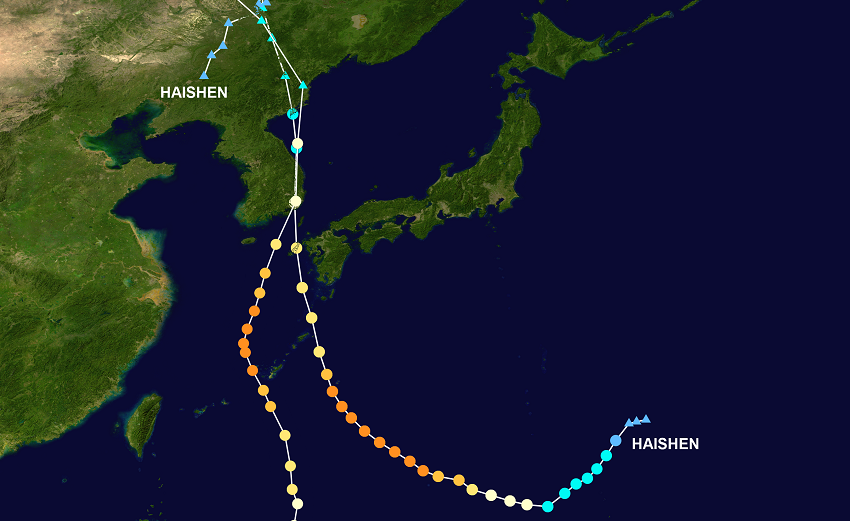 Due to a rapid intensification beginning on August 30, the storm reached its peak intensity in the morning hours of September 01 with 235 km/h sustained mean winds. A trough approaching from East China generated a accelerating movement to the north, which started the weakening of the storm. With a slow but continuous decrease in intensity, the storm moved across the East China Sea and made landfall at 17 UTC on September 02 in Busan (KR) as a Category 2 typhoon. The 10-minute sustained winds were 155 kph and the core pressure was about 950 hPa.



Sea surface temperature at beginning of September, source: NOAA



Even before Typhoon MAYSAK made landfall in South Korea, the prospective Super Typhoon HAISHEN already reached Typhoon strength. Under similar meteorological conditions, but with a more southern origin closer to the tropics, HAISHEN formed a typhoon on September 2nd. Continuous reinforcements and a rapid intensification on September 03 resulted in the storm even exceeding MAYSAK's strength.


Sources: HIMAWIRI and Digital-Typhoon

In a long lasting phase of maximum intensity (roughly 24 hours), HAISHEN achieved 10-minute sustained winds of up to 250 kph with gusts around 300 kph. While MAYSAK moved southwest along the Okinawa and Amami-Oshima archipelagos, HAISHEN passed these islands northeast. As a result, the impact of HAISHEN on mainland Japan, particularly Kyushu, was felt. At the southern coast of Kyushu, precipitation amounts of up to 206 mm/24 mm were recorded, and as HAISHEN's trajectory approached that of its predecessor MAYSAK, it also made landfall in Busan (KR). During landfall on September 07 at 00 UTC the storm reached wind speeds of 130 kph and was classified as a category 1 typhoon.


Webcam images from Hyeonmam-Myeon during the passage of HAISHEN, source: Windy
Location
24h Precipitation in mm
Date
Bukgangneung(KR)
Miyakonojo(JP)
Nago(JP)
Cheju(KR)
Fukue(JP)
Yakushima(JP)
Cheju(KR)
Bukgangneung(KR)
Ulsan(KR)
Akune(JP)
Masan(KR)
Naze JP)

221
206
195
184
176
148
143
141
132
125
123
110

03.09.2020
07.09.2020
01.09.2020
03.09.2020
07.09.2020
06.09.2020
07.09.2020
07.09.2020
07.09.2020
07.09.2020
07.09.2020
06.09.2020

Location
5 day Precipitation in mm
Date
Fukue(JP)
Bukgangneung(KR)
Cheju(KR)
Miyakonojo(JP)
Naze(JP)
Nago(JP)
Yakushima(JP)
Masan(KR)
Ulsan(KR)
Akune(JP)

393.5
362
343
294.5
266
238.5
230
218
210
183

07.09.2020
07.09.2020
07.09.2020
07.09.2020
10.09.2020
02.09.2020
07.09.2020
07.09.2020
07.09.2020
07.09.2020

---
Text: FS
September 11, 2020