Due to a wave interference in the night from 05 to 06 Jan a low pressure area formed over the North Atlantic. As a result of a favourable crossing of the jet stream it intensified and reached a core pressure of below 990 hPa. The trajectory of the depression continued north of Great Britain until it entered a southwestern course there and passed over Scandinavia, Denmark and Northern Germany. On the evening of 07 and 08 Jan it came to stormy and gale-force gusts in the north of the country and in exposed locations. In the Ore Mountains, in the Bavarian Forest and in the Northern Alps up to 50 cm of fresh snow fell in 24 hours. After the passage of the cold front showers occurred widespread - even thunderstorms happened sporadically.


---
Development of the low pressure System

Depression BENJAMIN formed from a wave interference over the North Atlantic. Cyclonogenesis was caused by upwardly directed vertical movement and divergence in high air layers assisted. On 06 Jan, the low pressure area crossed a diffluent zone of the polar jet on its northwestern trajectory. Thereby the core pressure of BENJAMIN was reduced from 1010 hPa to 990 hPa within 24 hours.
A steering low pressure system over northern Scandinavia deflected BENJAMIN on the evening of 07 Jan to a southwestern direction. The centre of BENJAMIN crossed the southwest coast of Norway, Copenhagen and the Baltic Sea. From 09 Jan onwards, it was moving at a significantly reduced speed over Poland and Slovakia. At the back of the depression cold arctic air streamed to Central Europe and the Mediterranean. Even in the northeast of the Iberian Peninsula the effects of the arctic outbreak were noticeable.


BENJAMINs development from 06 Jan, 12 UTC to 08 Jan, 00 UTC, sea level pressure and fronts | Source: Deutscher Wetterdienst
BENJAMINs development from 06 Jan, 12 UTC to 08 Jan, 00 UTC, 500 hPa Geopotential | Source: wetter3.de


Wind

Due to the high pressure area ANGELA bordering close to the west, horizontal pressure gradients of about 10 hPa/250km occurred on Jan 08 over Northern Germany. This resulted in high wind speeds as well as storm and gale-force gusts.
On 08 Jan problems and restrictions in ferry operations and the closure of some bridges occurred on the North Sea and Baltic Sea. In the northern federal states there were limitations in rail traffic due to fallen trees.

Measured wind gusts (selection), data source: Deutscher Wetterdienst


Location
Wind Gusts in kph
Date
Brocken
Fichtelberg
Weinbiet
Alte Weser Leuchtturm

Brocken
Fichtelberg
Alte Weser Leuchtturm
Norderney
Kahler Asten
Großer Arber
Wittmund/Flugplatz
Feldberg

101
86
83
83

126
115
112
108
107
100
97
94

07 Jan
07 Jan
07 Jan
07 Jan

08 Jan
08 Jan
08 Jan
08 Jan
08 Jan
08 Jan
08 Jan
08 Jan



Showers and Thunderstorms

In the area around and behind the cold front there was an upward vertical flow. Due to the northern inflow, the upward movement on the northern edge of the Alps was able to establish itself for a particularly long time, which caused the high amount of precipitation. The extremely cold high-altitude air (down to -35°C in 500 hPa) caused widespread showers behind the cold front and occasionally even thunderstorms.



500 hPa updraft 08 and 09 Jan, 00UTC, 500hPa Temperature 09 Jan, 00 UTC, 48 h Lightning activity from 09 Jan, 20 UTC | Sources: wetter3.de, Blitzortung.org,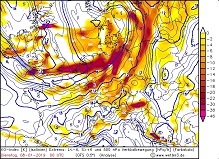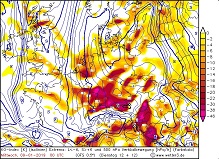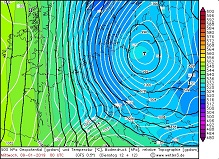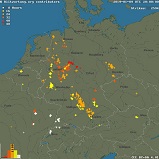 Snow

The air mass that is led to Central Europe by BENJAMIN is cold, but relatively humid. This caused widespread and intense precipitation over Germany. Due to orographic rain, in the Ore Mountains and Northern Alps fell up to 100 mm of precipitation in 72 hours. While the precipitation at low altitudes initially fell as rain and only turned into snow after the cold front had passed through, above about 1000 m snowfall was dominant permanently. Especially in the Northern Alps this brought fresh snow amounts of 100 cm in 72 hours. Due to the stormy winds snow drifts occurred, hiding cars or even houses under the masses of snow.

Selected amounts of fresh snow and total snow heights from 10 Jan, data source: Deutscher Wetterdienst


Location
Total snow
amount in cm
Zugspitze
Ruhpolding-Seehaus
Ramsau Schwarzeck
Mittelwald-Buckelwiesen
Berchtesgarden-Unterau
Oberstdorf-Birgsau
Immenstaad Reute
Carlsfeld
Oberstdorf
Oberreute
Holzkirchen
Gruenbach-Muldenburg
Feldberg
Garmisch-Partenkirchen

325
180
175
130
120
120
97
92
81
77
76
74
65
45

Location
24h fresh
snow in cm
Date, time
Ramsau Schwarzeck
Philippsreut
Oberstdorf-Birgsau

Ruhpolding-Seehaus
Aschau-Stein
Mittelwald-Buckelwiesen
Balderschwang
Pockau-Forchheim
Eibenstock
Gruenbach-Muldenburg

52
48
40

74
64
55
54
45
43
42

09 Jan, 06 UTC
09 Jan, 06 UTC
09 Jan, 06 UTC

10 Jan, 06 UTC
10 Jan, 06 UTC
10 Jan, 06 UTC
10 Jan, 06 UTC
10 Jan, 06 UTC
10 Jan, 06 UTC
10 Jan, 06 UTC

Snow masses in Altaussee (Austria), Obertauern (Austrie), Athen (Greece), Oinofyta Voiotias (Greece) | Source: Severe weather Europe


Because of the high quantities of fresh snow in a short period of time, the snow cover could hardly consolidate and remained largely unstable. This led to an enormous danger of avalanches, especially on steep slopes, but also on relatively flat ones. On 10 Jan the avalanche warning level was 4 (high) or 5 (extreme) in the entire area of the Austrian Northern Alps.



Danger of avalanches in Austria | Source: Lawinen.at



The subsequent low pressure areas EUGEN and FLORENZ maintained the northern oder northwestern inflow and provided continuous orographic precipitation in the Alps and the Ore Mountains. In the period from 12 Jan, 06 UTC to 14 Jan, 06 UTC up to 50 cm of fresh snow fell in the Alps, in the Ore Mountains and in the Black Forest up to 30 cm. On Sunday (13 Jan) Central Europe was under the influence of the warm air sector of low FLORENZ which made the snow line temporarily rise to 1200m. Rainfall of up to 109 mm/24h dramatically increased the weight of the snow cover and thus the danger of collapsing buildings or trees.

24 h precipitation from 13 Jan, 06 UTC to 14 Jan, 06 UTC, data source: Deutscher Wetterdienst


Location
24 h precipitation in mm
Station height in m
Balderschwang
Freundenstadt-Kniebis
Bernau im Schwarzwald
Zugspitze
Ruhpolding-Seehaus
Baiersbronn-Mitteltal
Voehrenbach-Urach
Oberstdorf

109.1
78.1
69.0
65.9
65.5
62.5
61.0
55.8

1037
863
1000
2964
746
596
935
806

Snow masses Flachau (Austria), Abtenau (Austria), Baskale Village (Turkey), Krkonose (Czech Republic) | Source: Severe weather Europe


Records

On 09 Jan the stations Treuen, Lichtentanne and Schmieritz-Weltwitz (all Saxony) set new monthly records of 24 h precipitation. In Bavaria and Baden-Württemberg some new snow height records were registered on 11 Jan.

Precipitation and total snow depth records, data source: Deutscher Wetterdienst


Location
24h accumulated
precipitation in mm
amount in cm
24h new snow
amount in cm
Treuen
Lichtentanne
Schmieritz-Weltwitz

24.4
19.2
19.0

8.0
4.0
11.0

Location
Total now
depth in cm
Old record
in cm
Old record
(year)
Kiefersfelden-Gach
Siegsdorf-Höll
Oberhaching-Laufzorn
Leutkirch-Herlazhofen

141
119
58
55

135
104
35
43

1965
2009
2014
2014

---
Text: FS
14 Jan, 2019
---