Der Internet Explorer bietet nur eine eingeschränkte Funktionalität. The browser you're using is only limited functionable.
16. März 2007, 13:30 MEZ

Tropischer Wirbelsturm 19S
"Indlala"
12.3.-16.3.2007

Madagaskar



Satellitenbild: 14.3.2007, 10:40 UTC, AQUA VIS
Quelle: NASA Earth Laboratory
---
Tropischer Wirbelsturm 19S "Indlala"
Mit "Indlala" suchte der vierte tropische Wirbelsturm in den letzten vier Monaten Madagaskar heim.
"Indlala" entwickelte sich stärker als es die Prognosen erwarten ließen, kurz vor dem Landgang am 14./15.3.2007 betrugen die mittleren Windgeschwindigkeiten 115 kt (213 km/h), in Böen wurden 140 kt (259 km/h) erreicht, damit gehörte der Wirbelsturm für einige Stunden zur zweithöchsten Kategorie 4. Überraschungen gab es auch bei der Zugbahn, die "Indlala" letztlich wählte. Die Vorhersagen führten den Wirbelsturm knapp an der Ostküste entlang südwärts, noch dazu mit einer sehr geringen Verlagerungsgeschwindigkeit. Damit hätte der Wirbelsturm zum einen noch längere Zeit seine Intensität beibehalten können, zum anderen wären im betroffenen Küstenabschnitt und im angrenzenden Hinterland gewaltige Regenmengen gefallen. Doch anstatt nach Süden abzubiegen behielt "Indlala" ihren Kurs bei und zog recht rasch über die Küstenlinie in westsüdwestliche Richtung ins Inselinnere, wo sie sich rasch abschwächte. Die größte durch Messungen belegte Regenmenge registrierte vom 14.3., 06 UTC, bis zum 16.3., 06 UTC, die Station Nossi be Fascene mit 172 mm. Dann folgen Sainte-Marie mit 131 mm und Sambava mit 111 mm. Berichte über Schäden liegen bislang nicht vor.
B.M.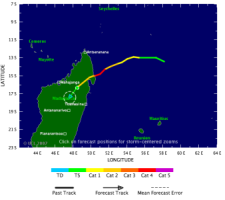 Zugbahn "Indlala"
Quelle: TSR
14.03.07, 12:00 UTC, MET7 IR/VIS
Quelle: NOAA / OSEI
13.03.07, 12:00 UTC, MET7 IR/VIS
Quelle: NOAA / OSEI
14.3.07, 06:00 UTC, MET7 IR
Quelle: F. Valk
Information on warning levels and icons used
Information on meteoalarm.eu